I turned 25 last week. Which is, by all accounts, not a big deal. But this particular year of my life involved a LOT of change. I've learned a few things, and I've grown up a bit. In fact, yesterday, I went to Target to buy hair conditioner and a mop. And I left with ONLY hair conditioner and a mop. I didn't buy any clothes, shoes or wine. And that, is an accomplishment.
Life isn't that serious.
I'm sort of a drama queen. Not in the sense of necessarily causing it, just in my reaction and overall delivery. I've got an arsenal of facial expressions and hand gestures to fire off in any given argument. And I have a tendency to go straight to "doomsday" mode when things go wrong. In middle school, I brought home a progress report littered with B's and C's. My parents went ballistic. I wasn't allowed to bring home anything less than an A. They scheduled meetings with my teachers, suspended my dance classes and gave me about 25 lectures, a piece. I knew that day, that the world was over. I still haven't mastered the art of "settling down." But I AM beginning to recognize when I overreact, which is I think at least a step.
Not ready? It's okay.
Not ready to get married yet? It's okay. Not ready to make that big career move? It's okay. Not ready to move out of your parents' house? Eh, it's still okay. Move at your own speed, because if you try to keep up with everyone else, you'll exhaust yourself, and you'll be miserable. Do what feels right. You have nothing to apologize for.
Your truest self arrives in the form of a gut feeling.
We've all got an inner voice. It pings us when someone seems fake, it encourages us to dream big and it generally steers us toward the greater good. We do one of two things with "the voice," we follow it, or we ignore it. Too often, I think we ignore it because we doubt its legitimacy, or we convince ourselves that it's impossible. Dreams and convictions don't just surface out of nowhere. Could it be possible the voice leads you to your purpose in the world? I think so.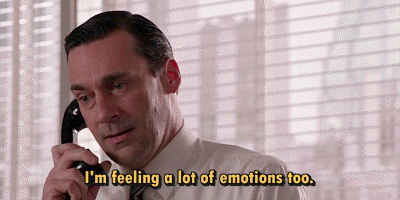 Be fiercely loyal to your loved ones. 
I keep my family and closest friends really close. I've only got a handful, and the older I get, the more I want to be totally loyal to them. The people that have clung to me at this point in my life are probably going to stay there. Be good to the people who care about you most. Listen to their boring stories and be available to them no matter how busy you are. They're the ones who are will carry you when you can't carry yourself.
Making decisions out of fear is a terrible idea.
How many times have you made a decision because you were scared of the alternative?
I don't want to break up with him because I'll never find anyone else.
I have to stick with this job because I won't find a better one.
I can't move far away because I'm scared of getting home sick.
These fears, for the most part, are irrational. But they're unbelievably believable. Especially that first one. If you're unhappy in any given situation, it requires change. And if the change scares you, it's a good thing. You'll be much better for it in the end, even if the light at the end of the tunnel is but a twinkle.
Believe in something higher than yourself.
Knowing there is a higher plan in place makes me have a lot of hope. At age 25, your entire life is one big unknown. Chances are, you haven't found your dream job, or your soulmate. But chances also are, if you believe, you will.  If you're finding yourself in a total rut — this is temporary. If you believe in the steadfast power of the universe to align with your deepest hopes and dreams, it will. You'll find a way. You always will.
Be fiercely loyal to yourself.
Loyalty comes from a deep place of respect and often love. I think a key part of living successfully involves loving yourself. When your core beliefs and values reflect what you're doing, and you're succeeding — you start to like who you're becoming. There's nothing in the world more gratifying than exuding confidence because you know exactly who you are, and liking it. You become unapologetically genuine when you love yourself, and there's nothing more likeable than authenticity. One of my absolute favorite compliments in the world, is when people tell me, "You're so real." That's when I feel I'm my best self. So be loyal to the person welling up inside of you. If you love yourself, the world will love you back.
And that's just fabulous.